This shop has been compensated by Collective Bias, Inc. and its advertiser. All opinions are mine alone. #BigLotsHoliday #CollectiveBias
The holidays are always my favorite time of the year. It's the time that we take a step back from ourselves and think more about others. I love holiday gift-giving because it's a great way to make someone's day. I enjoy seeing their faces light up just when they thought no one was thinking of them.
With that said, I am also all about practical gift-giving. OK, everyone I know is about practical gifts. I think it's the best way to make a person happy, spend money wisely, and know your gift won't end up in the trash or back at the store.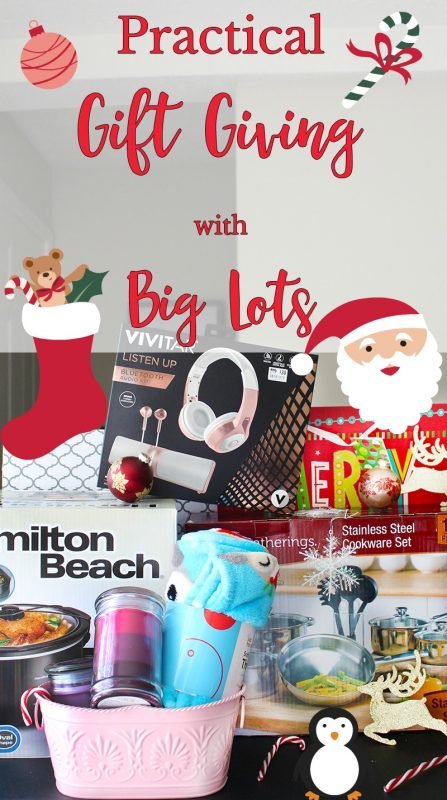 For some reason, this year a few of my family and friends decided to move. So I figured I would give them items that they could use around the house. For my daughters, I grabbed a couple of things from Big Lots that I know they will love and that fit their personalities.
Let stroll through my Christmas shopping trip at Big Lots.
My first stop in the store was the small kitchen appliances. I was recently talking to one of my friends about making oxtails and she mentioned that she hasn't made any in years because she no longer has a Crockpot. I think somewhere in the rules for Southern women, there is a requirement to own some form of a slow cooker.
Since I'm a good friend, I had to hook her up with a new Hamilton Beach slow cooker. It is lightweight, easy to use, and affordable.
Next, I headed over to the pots and pans. I was telling a friend how I accidentally left my pots when I moved and she stated that she didn't have any pans. I saw an affordable stainless steel set that I picked up for her.
If I would've known about this set, I would've waited to buy one for myself too. Dang! The set I purchased had fewer items and was quite a bit more.
My next stop was the section with the throws. My oldest loves throws and candles. So I decided to make a gift basket with both. I recently gave her a ton of makeup, so I didn't have to worry about that this time around.
I found an owl throw that I thought she would absolutely love. Heck, I think it's super cute.
Now that I had her throw, I headed off to the candle section. My local Big Lots had a ton of candles on clearance and they smelled so good. I grabbed two candles for my daughter and one for me. Don't judge me!
I found this cute little container at my local Goodwill and thought it would be perfect for a gift basket.
Now that I had the oldest squared away, it was time for me to pick something up for the youngest. She is all about listening to music on her iPhone and iPad, so I decided to get her a cute headphone and speaker set.
I had a hard time deciding which set I wanted to get her, but I settled on the rose gold set because it had more options.
I needed a few bags to put the slow cooker and the pan set in. I'm so uncreative when it comes to putting things together. Big Lots had a great selection of bags and I even found one big enough to fit a dog bed! Wow!
Honestly, I don't like wrapping gifts, so gift bags are always my go-to. I'm super happy that I was able to fit the cookware set in the bag and still had room for tissue paper that I also grabbed from Big Lots.
You know me, I had to take a stroll around just to see what other items they had. I was surprised to see cute little outfits for dogs.
I seriously wish I had a dog! I keep saying I'm getting one but I'll wait until I move again. At least, I know where to find inexpensive outfits.
OMG! Are these bathroom items not the cutest things ever? I had no idea that Big Lots even carried things like this for the holidays.
Surprisingly, I was able to find quite a few items that didn't break the bank. Big Lots has so many other items including traditional gift baskets, decorations for the home (interior and exterior), along with items that would make great stocking stuffers. I saw a brownie set that I think I might try to create on my own to give as a gift but if not, I'm heading right back to the store.
If you have a Big Lots where you live, make sure you stop by. They even have cute fragrance gift sets. Don't blame me when you lose your mind while shopping. LOL!